News from schools in the South West Region
Chefs in the making at Henley Bank High School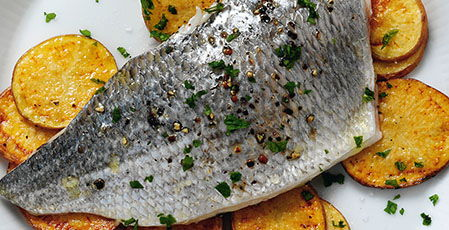 Henley Bank High School has high aspirations for its students and lesson content across all subjects is pitched high to offer challenge and provide great impact learning opportunities. Such ambitious standards and expectations were showcased brilliantly in Ms William's Year 11 hospitality and catering class, where students were expertly filleting whole sea bream. The students were thrown well out of their comfort zone as they had to demonstrate advanced level knife skills and food knowledge. The corridors quickly filled with the smell of pan-fried sea bream fillet being cooked in garlic and lemon butter which the budding Michelin Star chefs had the pleasure of tasting before evaluating their work. Ms William`s flare for cooking is ensuring that students across all year groups are now having the opportunity to stretch their culinary abilities and introduce their palettes to a huge range of exotic flavours.
Yate Academy delighted with exceptional GCSE results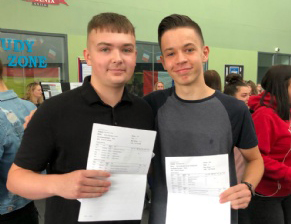 Yate Academy is thrilled to have achieved a Progress 8 score of +1.01. The schools has once again exceeded expectations and has achieved outstanding GCSE results this summer, which are even more impressive than its 2018 results. The results are not only the best in the school's history, but will put Yate Academy amongst the best schools in the country.
Headteacher Isabel Ambrose said: "I am absolutely thrilled with these well-deserved GCSE results. The hard work from students and staff, along with the support from their families has made this momentous achievement possible. I am so very proud that the academy has increased outcomes in all areas and sustained success over the last two years. I have loved working with this particular cohort and I wish them the very best of luck for their futures."
Holmleigh Park Year 7 residential visit to Viney Hill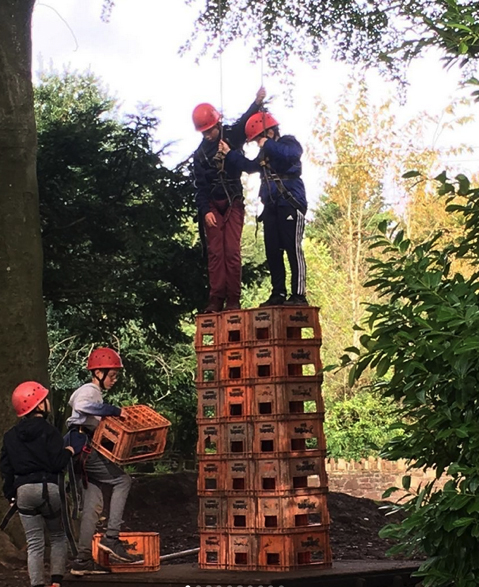 Year 7 students at Holmleigh Park High School recently enjoyed a residential visit to Viney Hill in the Forest of Dean. Students experienced a huge range of activities, including caving and canoeing. Jessie-Mae and Yasmin in Year 7 said: "The activities pushed us beyond our comfort zones, but they helped us to be more confident. We also had to be kind to each other, and help those who were struggling in our groups. The staff from Viney Hill were very friendly and funny, and we loved that our teachers got involved and joined in all the activities."
The group slept in dorm rooms and tents and they enjoyed spending their evenings around a campfire, toasting marshmallows and singing some of the songs they learnt in the school choir.
STEM day inspires students at Five Acres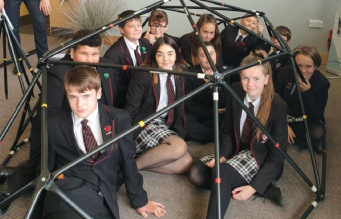 A group of Year 9 students recently took part in the TeenTech Activity Day in Bristol. The day was designed to inspire teenagers about the contemporary world of science, engineering and technology. The students were able to handle leading-edge technology, with particular highlights of the day being the opportunity to experience the Rolls Royce simulator, build a bridge with Highways England and learn about the many advances being made in robotic technology.
In the afternoon, students developed their own ideas for a gadget to make life better, safer or more fun. Millie from Five Acres bravely stood up in front of around 20 schools and pitched her group's idea for a pair of glasses that helps with maths equations.
The students left the day with a greater understanding of the many options available to them in engineering and with the knowledge that science can be fun and can lead them to some exciting careers.
Raising mental health awareness at Blaise High School
Blaise High School celebrated Mental Health Awareness Day on Thursday 10th October. Many of the students and staff took the opportunity to wear a splash of yellow in support of the #HelloYellow campaign. The school's Student Leaders, together with the Director of Fun, Mr Wallis, worked tirelessly to make Mental Health awareness ribbons so that all staff and students could pin them onto their uniform. This symbol was to help to remind them of the care we have for their own mental health and that of their friends, family, loved ones or anyone that they come into contact with. The final part of the school's mental health focus was the Friday lunch time activity of Mindfulness Meditation, which was a great opportunity for students and staff to come along and relax.
Leading the way at Tyndale Primary School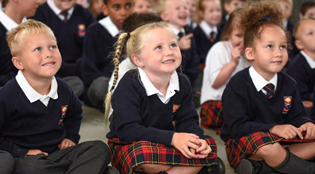 From 1 September 2019, Kirsty Borrill, the previous head of Woodlands Primary School, became Interim Headteacher at Tyndale Primary School. Kirsty is very proud to be leading Tyndale, where her primary aim is for children to achieve the very best academic success and progress.
Kirsty said: "I have a very nurturing ethos, where I am equally ambitious for all our children. I value working with parents and carers to create an extended family throughout our school and community. What a fantastic start we've had! It has been a pleasure to see how quickly the children have adapted to the new uniform and behaviour policy. Our new enrichment programme is now embedded with children participating in sports, choir and the arts on a weekly basis. I look forward to seeing the new expectations reflected in the children's learning."
Spreading the word about Woodlands!
Woodlands Primary School has been very keen to promote the school within the community of Yate. The school had a very positive turn out for the open event and prospective parents were most complimentary about the children at Woodlands. They were impressed by their keenness for learning, the positive atmosphere in the school and the staff's enthusiasm. Woodland Primary School's staff are passionate about developing a strong school that the community deserves and are aiming to be 'outstanding in all'.