News from schools around the Greenshaw Learning Trust

Team Tyndale!
All children are entitled to a high-quality education, whether at home or at school, in order to give them the best possible chance of success. During these uncertain times, children at Tyndale Primary School have been given the opportunity to retain prior knowledge and access new learning content via the school's online learning platform. Children have benefited from maintaining contact with familiar adults (both pastorally and to receive feedback on their learning) from the school.
The learning platform provides a safeguarded messenger feature between children, parents and teachers. Children hear their teacher's voice daily through a video and receive individual tasks, voice notes and access to a daily assembly led by Headteacher Kirsty Borrill.
Reading continues to be a priority, and all year groups are accessing daily DEAR time (Drop everything and read) videos with a comprehension to follow. Children have easy access to all of their learning which reflects their usual daily routines, whilst offering the flexibility to meet their family's wider needs.
---
Team Woodlands vs COVID-19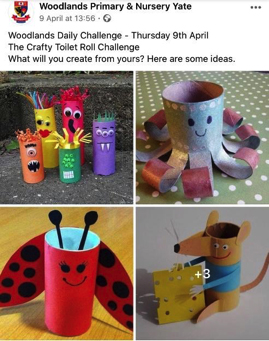 As with other schools in the Greenshaw Learning Trust, Woodlands Primary School has had to quickly adapt to a new way of working with young people, whilst still keeping its sense of community and promoting its vision of being 'outstanding in all'. The whole school community has quickly adapted to the new challenges of working from home. An example of this has been its daily activities that build mental and physical strength and resilience: 'Team Woodlands vs COVID-19'.
These challenges were set up to develop a sense of community spirit and to continue to promote the ethos of the school. One of the teachers, Mrs Lansdown, has set the challenge of daily 'tasks to beat the virus' which have been really well received by both children and parents. This has been particularly important for children with additional needs and those with anxiety, some of whom have found the change to home schooling difficult. One parent shared how her son spent a whole morning folding up the bags for life following a Woodlands' challenge. It gave him a sense of pride to think he was doing his bit to 'stay at home and beat the virus.'
---

Blaise rocks!
Before the lockdown, Blaise High School brought the house down, with students performing to packed audiences over four days. Based on the songs of British rock band Queen, 'We Will Rock You' tells the story of a group of bohemians who struggle to restore the free exchange of thought and fashion, and live music in a distant future, where everyone dresses, thinks and acts the same.
The production itself was of the highest standard with exceptional singing, dancing and acting and amazing costume and set design. Students at Blaise High School worked collaboratively with Bristol University students, who provided an outstanding display of lighting and visual effects. The students performed with professionalism, committing a huge amount of time to ensure the show was an enormous success.
Special mention must go to Blaise High School's performing arts department: Miss Harper, Mrs Evans and Miss Stone, who worked tirelessly for months to make their 'one vision' come to reality.
---
Five Acres choir
On Saturday 7 March, members of Five Acres High School's Year 7 and 8 choir took part in a concert hosted by a local choir, Forest Singers. Students sang a number of songs, finishing the evening with a joint performance of Adiemus with the Forest Singers and percussionist Ben Hannaford-Waddington.
The concert was organised to celebrate Forest Singers' third birthday, and the school choir also had cause for celebration as they, along with Ben, received a £500 bursary from the Singers.
The students also became local radio stars, as the recording of the joint Adiemus performance was aired on Radio Gloucestershire.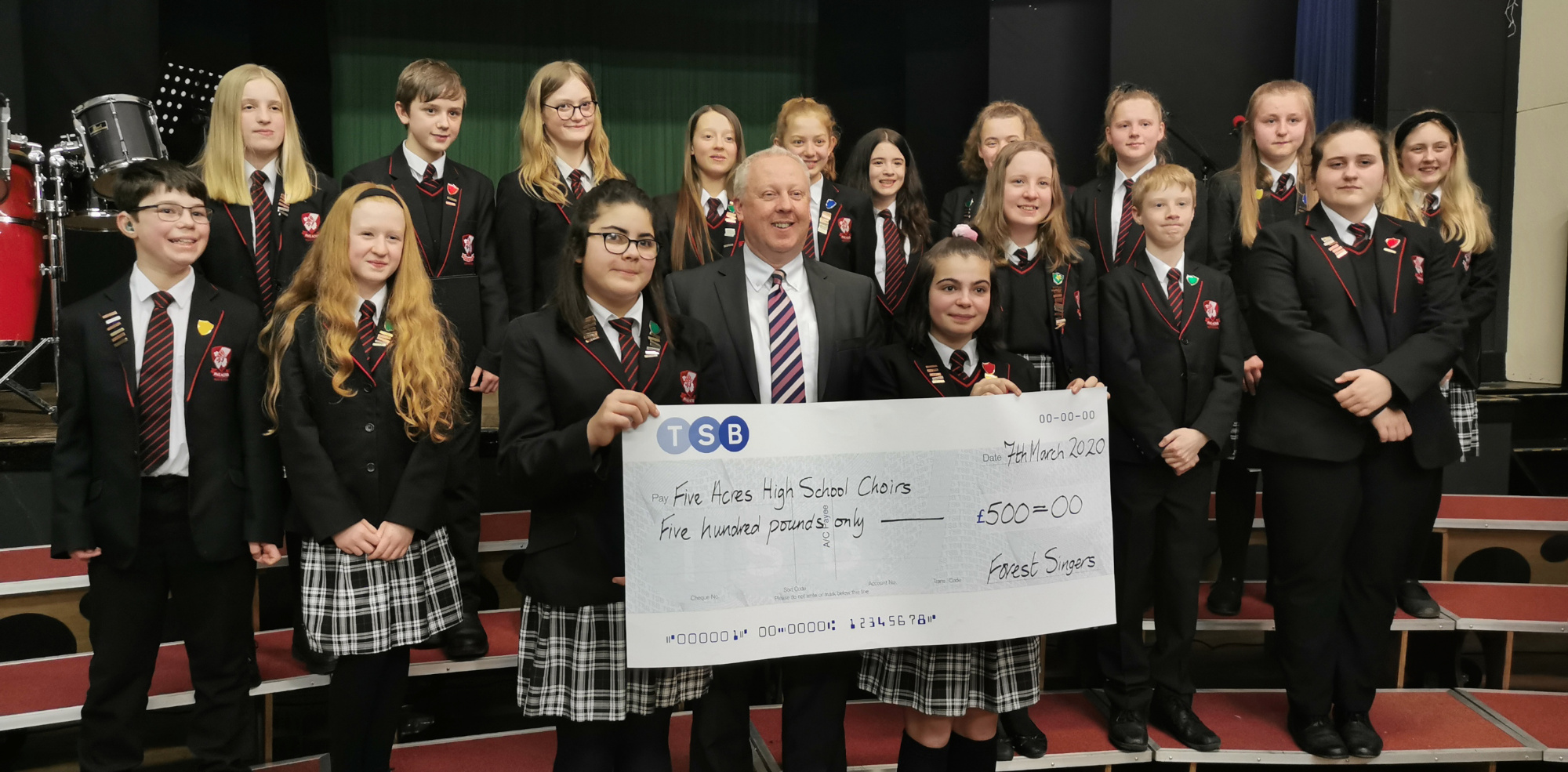 Members of the school choir receive their bursary cheque alongside Mayor of Coleford, Nick Penny.
---
Henley Bank welcomes Poet Laureate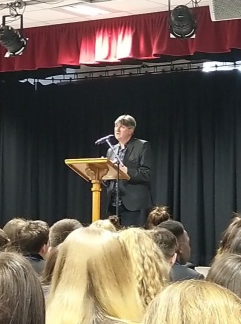 Henley Bank High School recently welcomed Poet Laureate, Simon Armitage, for a visit. Simon has received numerous awards for his poetry, including the Sunday Times Young Author of the Year, the Spoken Word Award, the Ivor Novello Award for song-writing, Television Society Award for Documentary and Keats-Shelley Prize for Poetry.
Led by Mr Delahoy, Henley Bank's own resident poet and English Teacher, the event welcomed over 400 Year 11 students from five of the Trust's secondary schools. The GCSE English Literature exam requires students to skilfully compare two previously unseen contemporary poems written about the same topic. Students were asked to use their knowledge and understanding of Shelley`s Ozymandius against one other unseen poem from the Power and Conflict anthology.
---
---

Year 11 finishes the year on a high at Holmleigh Park
The first Year 11 cohort at Holmleigh Park High School as a Greenshaw School finished the year in incredibly strong fashion.
Headteacher, Patrick Farmbrough, said: "Throughout the year, they have more than lived up to the school's values. They have worked phenomenally hard since September, taking the addition of Period 6, Period 0, Morning Warms Ups, Working Lunch, and Champions Hour in their stride – and doing a huge amount of homework and revision too. They have shown incredible kindness, rallying together as a year and supporting each other. They have also taken responsibility, refusing to blame anyone else when things got tough, and accepted that their futures are in their own hands.
"Although we are disappointed that they will not get the chance to sit their exams and show how far they have come, it is worth remembering that exam grades are ultimately only a letter or number on a piece of paper. What really matters is the dedication that Year 11 have put in, and the huge growth we have seen in their self-confidence. They have set a very high bar for all future Holmleigh Park students, and we're looking forward to seeing most of them return next year."
---
The great debate at Yate Academy
On 11th March, five Year 7 students from Yate Academy took part in the RSPCA Great Debate. After weeks of preparing with Miss Weech and Mr Burr, they finally took to the stage to showcase their research and debating skills.
Although Charlie, Troy, Imogen, Emily and Adela were the youngest competitors, they excelled themselves and emerged victorious. Deputy Headteacher Natalie Wilcox said: "We are immensely proud of our students. It takes real confidence to put yourself forward for this kind of event. It shows that the work that we have been doing on oracy is really starting to pay off. Huge credit to the students and to our fantastic teachers, Miss Weech and Mr Burr, for making this possible."
They now all wear their Oracy Character badge with pride and love talking about their achievements.
---
---
Crown Wood's Forest School
The Forest School at Crown Wood Primary School ran all the way through the Easter holidays for the children of key workers. The images are of Reception and Nursery children exploring some of the activities on offer. Donations from Waitrose and Longacres Nursery meant the children didn't miss out and had a great time during the holiday.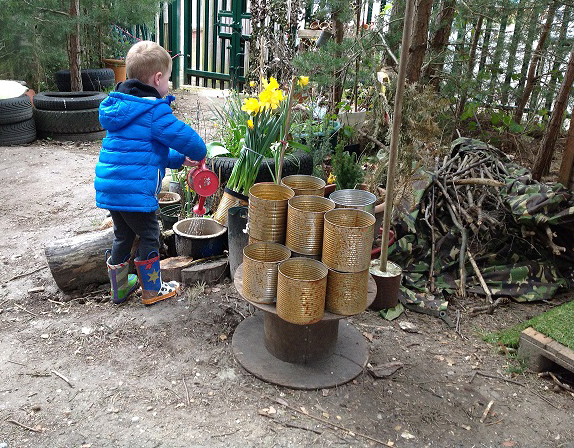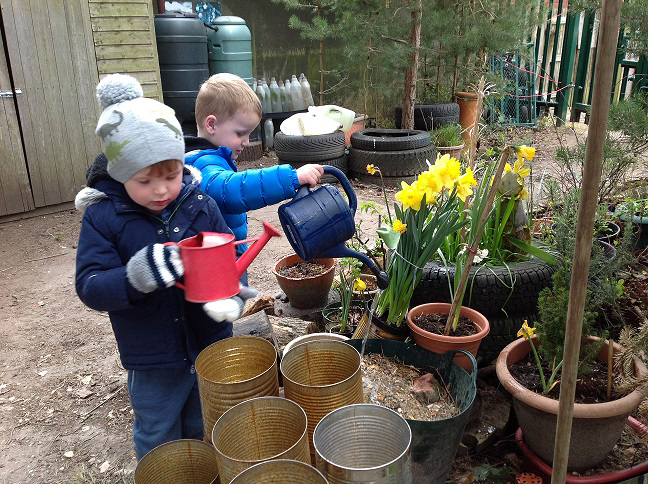 ---
Children at Wildmoor Heath help to sew scrubs for the NHS
Wildmoor Heath is open every day for young learners whose parents work in the NHS hospitals and provide critical medical care to the nation during the critical COVID-19 pandemic.
The Wildmoor learners are completing the home learning programme set by their teachers and in the afternoon, they enjoy outdoor learning. The children are also helping the NHS by making scrubs for the medical workers. Led by Wildmoor's Senior Learning Assistant and ELSA, Mrs Thurgood, together with Mr Phelps, Year 4 teacher, the children cut out patterns for the scrubs and then help to sew them together. The pictures below show their concentration and engagement cutting out and later wearing the scrubs.
Mrs Semper, Headteacher at Wildmoor Heath, said: "We are really proud of the children, who are keen to support the NHS."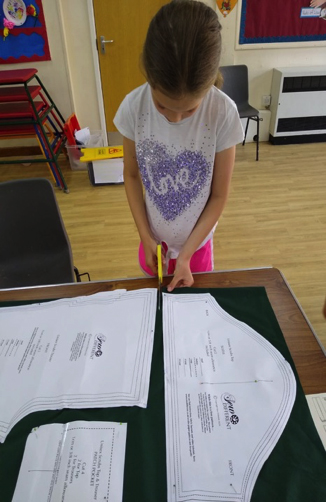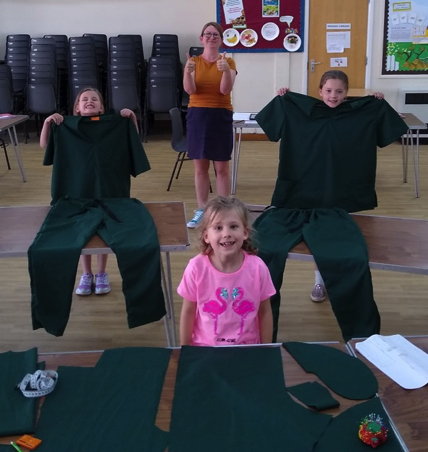 ---
Brakenhale team supports the HNS
Staff in Brakenhale School's design and technology department were proud to volunteer as part of a team making face masks for our amazing NHS using laser technology. Staff from other departments in the school also gathered together cutting out patterns for scrubs, headbands, bags and masks for our front-line workers.
This crisis has really demonstrated the levels of human kindness that exist in our world. The school has been inundated in recent days with donations of fabric for the NHS scrubs appeal and from people volunteering to join in the effort to make scrubs, headbands and bags.
Jane Coley, Headteacher at Brakenhale, said: "Thank you to the entire Brakenhale team, especially Steve Elsey and Sara Higham (who is now coordinating two hubs), as well as everyone coordinating efforts across the region, gathering and delivering resources, and those sewing scrubs at home."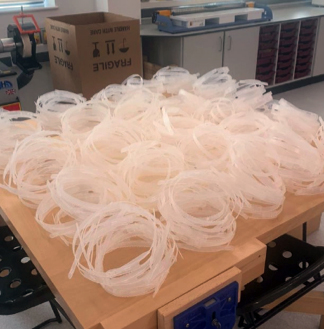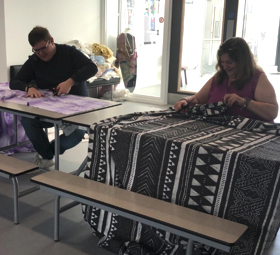 ---
Green Wrythe Primary School embraces home learning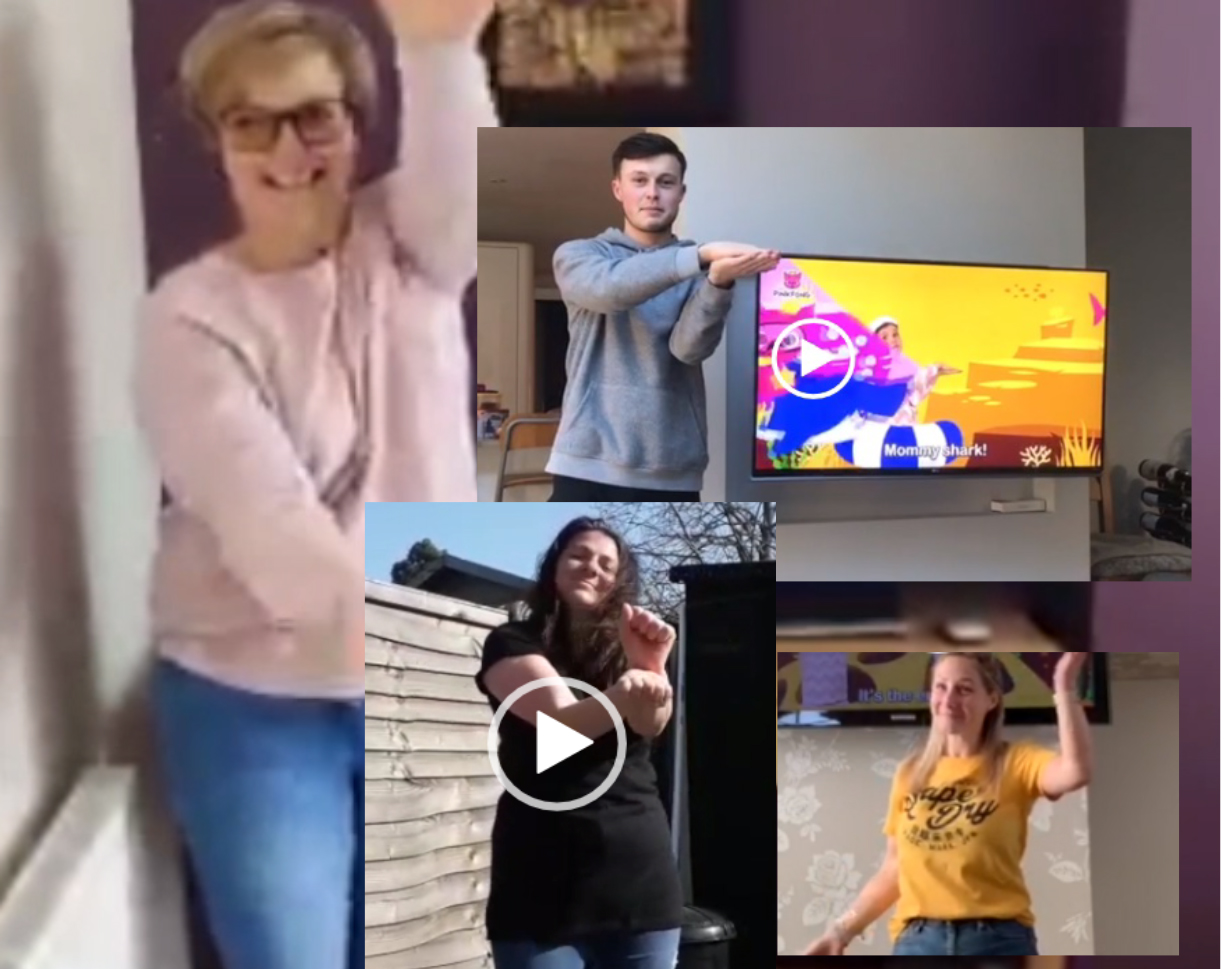 Green Wrythe Primary School has been developing ways to ensure that its most vulnerable children do not lose touch with their teachers. Staff in the Rainbow Department's teaching team have become the new stars of the school website by creating short videos from 'Baby Shark' to 'What's in my Box?' These are only a few clips of the many hidden talents, which the team has shared on-line. Besides videos and activity packs, the teachers have been in regular contact with parents via telephone and email.
The Ark Team has also been working hard at creating new on-line resources, including assemblies and live teaching videos via the 'Purple Mash' online platform. All of our new IT skills have ensured that our wonderful children do not lose touch with their teachers and can find new ways of learning remotely.
Karen Jones, Headteacher at Green Wrythe, said: "We are looking forward to being fully open again, but we have embraced the whole new world of home learning with enthusiasm as we have all been learning together – teachers, teaching assistants and children alike! The shared comments of the assembly blog have been uplifting and I can't wait to open again! "
---
A bumper box of books at Tweeddale
Tweeddale Primary School had been collecting Sun tokens towards new books for the school, but then found that they didn't quite have enough tokens to qualify. However, Mrs Quaile wrote to the Sun Newspaper who promptly delivered a big bumper box of new books to the school. The school is very grateful to all the families who took the time to save their tokens.
Still on the theme of literacy, on Wednesday 4th March Tweeddale took part in World Book Day, and the children and staff made a brilliant effort. The children were treated to stories by different members of staff. We had a fabulous Mrs Trunchball, Gangsta Granny, Peter Rabbit, The Fairytale Hairdresser, The BFG, Dennis the Menace, an amazing Draco Malfoy, Harry Potter, Hermione Granger, Alice in Wonderland and many, many more.
---
Children at Victor Seymour get busy at home
Staff at Victor Seymour Infants' School have put together a fantastic bank of resources for the children to use on its Frog Learning Platform during the school closure. All of the children have been given an exercise book and a list of useful activities to do while they are at home and the home learning platform is being updated regularly with new fun activities for them to try.
The school has set up class emails, and Key Stage 1 teachers are emailing home each day with a task for the children to complete. Many children have responded with activities they have done at home and work that they have completed. EYFS uses the online resources from 'Tapestry' and are sending out a daily task for the younger children to complete.
The school has set a daily timetable of learning for all children after the Easter break, with up to four subjects each day. Headteacher, Helen Matt, is creating online assemblies and inviting pupils to watch them via YouTube. Moving forward, teachers are developing video messages, to personalise learning for the children and parents.
---
Greenshaw students inspired by Aspire to Higher Education Conference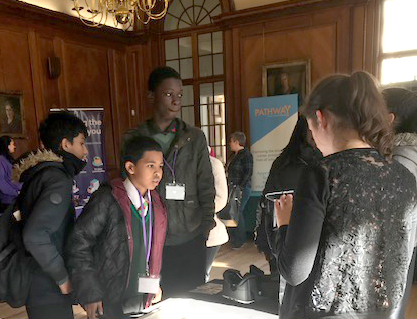 Fifteen Greenshaw High School students recently visited Roehampton University to inspire them to think about university as an option in the future. It was a fantastic opportunity for the students to visit a highly renowned university. The university has run these visits for some years and the impact on students is considerable:
87% of students said attending the KS3 conferences last year had encouraged them to think about their future and how to get there.
82% of students who attended last year's conferences said after attending it made it more likely that they will go to university.
Going to university can mean there are many opportunities for young learners to thrive, study a course they are passionate about and improve their job and salary prospects. The Aim Higher conference for KS3 students gave young people the chance to think about planning for their future and the available progression pathways, in order to support making an informed decision when selecting their GCSE options.
The aims of the conference were:
To give learners a clear idea of the pathways that can lead to higher level study.
To offer a taste of subjects in higher education and how they relate to GCSE options.
To have the chance to talk with current undergraduates about student life.
The students also attended workshops led by expert university facilitators, were given campus tours and were able to explore the interactive fair with a selection of subject-related activities. Their interaction with the various companies present on the day was impressive and they were also able to speak to current university students and those who had just graduated.
---
Keeping on top of learning at Orchard Park
Students at Orchard Park High School will be able to stay ahead of their learning, despite schools shutting, by logging on to Google Classroom. Senior leaders of the school prepared for the closures by posting lessons via the online platform in line with the school timetable. An assignment could be a quiz, a comprehension task, watching a video, or answering examination questions. Assistant Headteacher, Mr Hubbard said: "In these extremely difficult times it is incredibly important for students to stay on top of their work. Teachers are working remotely so they can continue to support students and ensure the disruption to their education is minimal."